INVESTIGATE SUITABLE INKJET PRINTERS
Inkjet printers are crucial for ensuring that your products meet statutory date coding requirements.
You need to know what type of ink is required for different containers.
Also important is the scratch resistance of the ink.
These high speed inkjet printers allow your product marking to be achieved simply, economically while meeting legal requirements for date coding. Simple to set up and use these printers give exceptional features as well as high quality print and a print marking cost that is measured in fractions of a cent.
To get the right solution
j
ust
give us a call on
0411 713 173
or click on the Contact Us button.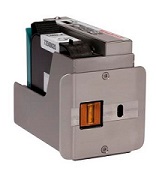 X1Jet HP is one of the most compact coding systems on the market. It is designed to fullfil standard marking and coding requirements such as text, dates and images in excellent quality. The printer utilises thermal ink jet technology to guarantee maintenance and trouble free printing. The large portfolio of inks allows X1Jet HP to print onto most porous and non-porous packaging materials in industrial applications where contact free product coding is required.
X1Jet HP offers a large range of features to provide trouble free marking and coding in excellent print quality.
Stainless steel construction

Print height from 0.8 to 12.7mm

High resolution 60-600 dpi

Print speed up to 30m/min @ 300dpi

Networkable (ethernet) and USB connection

Onboard 9 message storage

Three configurations available – Basic, Advanced and Pro
All models include power supply

, X1Jet USB stick with IDesign, data cable, universal mtg bracket
Markoprint X1 Basic
Inkjet Printers
Basic printing module
Add
Markoprint X1 Advanced
Inkjet Printers
Advanced printing functionality
Add
Markoprint X1 Professional
Inkjet Printers
Full featured module
Add
WC830BK
Inkjet Printers
Black ink cartridge for porous surfaces
Add
WC916BK
Inkjet Printers
Black ink cartridge for non-porous surfaces
Add
WC301RD
Inkjet Printers
Red ink cartridge for non porous surfaces
Add
WC902BE
Inkjet Printers
Blue ink cartridge for non porous surfaces
Add
WC920GY
Inkjet Printers
Grey ink cartridge for non porous surfaces
Add
WC922BK
Inkjet Printers
Black ink cartridge for non porous surfaces
Add
WC926GR
Inkjet Printers
Green ink cartridge for non porous surfaces
Add
For pricing on Inkjet printer options please call 0411 713 173