SELECT A LABEL REWINDER OR DISPENSER
If you are pre-producing a batch of labels using a Labelmate rewinder can prevent damage by rewinding the labels on
to a core as they are printed. This is also useful if you are wishing to use a label applicator as the labels will be presented
undamaged and suitable to loading to the applicator. If you are manually applying the labels then a label dispenser is
indespensible.
If you need help
give us a call on
0411 713 173
or
click on the Contact Us button.

MC10A & MC11 Label Rewinders
Label Rewinders wind up labels into a roll as they come out of a printer. If you don't use a Rewinder, you have to gather up the labels by hand once the printing job is finished. A Rewinder is much more convenient and saves you time.
"CAT" (Constant Adjustable Torque™) has made these quiet, easy-to-use Rewinders the "Industry Standard." With various core sizes, label widths, roll diameters and options to choose from there is a Rewinder to fit any job you may have.
MC10
Labelmate
Compact economy label rewinder
Add
MC11
Labelmate
Compact economy labe rewinder with adjustable core holders
Add
LD100-U & LD200-U Label Dispensers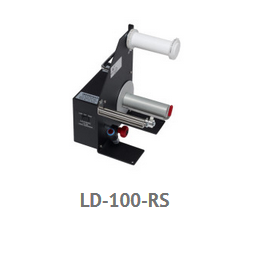 Labelmate LD100-RS is an automatic label dispenser specially designed to reduce the amount of time traditionally spent in manually peeling and applying labels and uses the latest "opto-electronic technology" so there is just one simple adjustment for label length. A special Reflective Sensor sits below the label and reliably and accurately senses the leading edge of your label. As you pick up a label, the next one is automatically and instantly advanced.
Also available in 150mm wide version (LD200-RS). Both units are suitable for opaque labels

The LD100-U uses a new ''state of the art'' reflective detector that allows the machine to dispense all types of labels, including transparent and opaque labels. This unit also utilizes a compact photoelectric sensor with optic-fibre cable to automatically advance the next label for picking.
Also available in 150mm wide format (LD200-U) as well as stainless steel versions

LD100-RS
Labelmate
Labelmate LD-100-RS Power Label Dispenser
Add
LD100-U
Labelmate
Labelmate LD-100-U Power Label Dispenser
Add
LD200-RS
Labelmate
Labelmate LD-200-RS Power Label Dispenser
Add
LD200-U
Labelmate
Labelmate LD-200-U Power Label Dispenser
Add
Offline reel to reel label printing system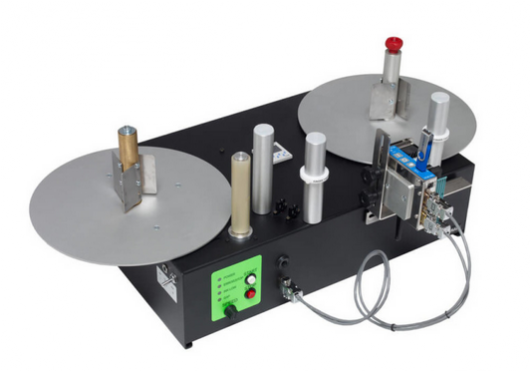 Available in either low speed or high speed

11″ Wide roll capacity

Core Diameter 76mm Unwind to 76mm Rewind

Label Width – Up 152-mm

Roll Diameter – Up to 290-mm

Maximum print height of 12.7-mm

User-definable resolutions: 300×300, 300×150, 150×150, 150×75 and 75×75 dpi.

The print head can be positioned to print anywhere on a label approximately 100-mm x 140-mm

Six digit non-scaling preset counter for opaque labels

Maximum speed: Low Speed (P-300-LS): 130-cm/sec – resolution up to 300×300 dpi. High Speed (P-300-HS): 235-cm/sec – resolution up to 300×150 dpi
P300-HS
Labelmate
Reel to reel offline printing system - High speed printer included
Add
P300-LS
Labelmate
Reel to reel offline printing system - Low speed printer included
Add
PM300-LS
Labelmate
Reel to reel mechanism supplied without inkjet printer. Max 1500mm/s
Add
For pricing on other label rewinders or label dispensers please call 0411 713 173